It would be rare for me to pass by the Milton Street Book shop on my way home on foot without at least a one minute glance at the books  that are clearing at 50 cents each on the exterior window sill.  If this used book shop is successful, and they have remained in business while many other book shops have not, it may be partly attributed to the siren's call of these quality 50 cent offerings.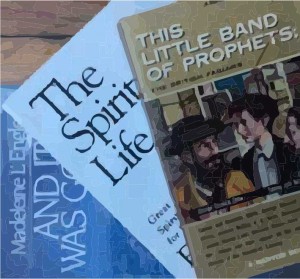 Today I heeded the call of two books with a spiritual bent and one that excited my interest in history – a paperback history of the early Fabians in Britain.  It may always be best to buy used books on subjects that touch the spiritual life as if the ideas are new and in fashion they may not stand the test of time.  Why feed your ever-living soul something that has less than a 20 year time span?
Once in the store to pay my coin to the book-loving minder of the till, I browse the pricier yet still quite affordable selections.  I consider Robert Frost (The Complete Works) while reading "Christmas Trees" a poem he wrote as a Christmas circular letter sent out to friends.  I could take captive his complete works for only $10 and put it on my bookshelf at home (although there would be an opportunity cost – another book replaced – as there is no room left in the inn).  Then I look to see if there any books by my 1st year university English teacher's favourite poet, except I can't recall the poet's name so I browse the whole poetry section (in vain) for the Jesuit poet who gave glory to God for dappled things.  Google those last 6 words and you'll find the rich, rich poetry of Gerald Manley Hopkins.  Meant to be read aloud his poetry was never published during his lifetime (and still he wrote, for the glory of God).
So, finally I leave the gas-heater warmth of my favourite book shop with $1.50 worth of books in my clutch.  If I put these three books immediately on my reading list along with another 3 to 6 books already begun I would not need to return to the Super Library before June.  Selah.
Read the exciting conclusion to this blog about used books at dettweiler.ca/wp sometime before the end of June.