I had a good talk with mom this morning. I was able to test out some of the theories that I have about how the Dettweilers came about having a cottage in Muskoka. I was 5 years old when the transaction to buy the cottage took place.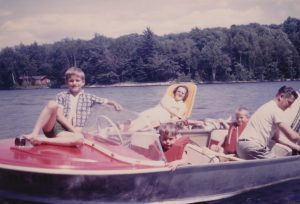 I remember some things very clearly – I cut my finger on a blade of glass during the visit with the real estate agent – we went on a tour of the lake conducted by a teenage Ken Dorsch – and I could tell you where I was in the backyard in Breslau when Dad brought home the boat from Maryhill marina; that's when I knew for sure that we had a cottage.  Mom provided some details this morning that allow me to flesh my theories out into a fairly well substantiated story.
It goes like this:
We know from the honeymoon pictures that Mom & Dad went up the highway Muskoka way as there are pictures of them in a tiny rental cabin, at a motel (between Orillia and Gravenhurst) and in a boat on a small lake. The tiny rental cabin and the boat was likely the destination as Mom says it was near Parry Sound and that they stayed there several days and the motel, would have been a stop en route to that. I think there may even be pictures of the honeymooners at High Falls (on the Muskoka River right at the intersection of highway 11 and 117). Dad liked to stop there with his family. If he was like me it would have been drilled into our heads, "your mother and I stopped here on our honeymoon". But dad's not like me that way and I had to figure that out on my own.
The other connection that dad had with Canadian Shield geography is in 1943 when dad spent about 6 months at the Montreal River camp, north of Lake Superior, as the lesser part of his alternative service assignment of 43 months that lasted until the extreme end of WWII. The greater part of his service was in Breslau working at Cecil Mader's dairy which continued until all the army service were home, the war well over in 1946. Dad didn't get to go to camp during his childhood and teenage years,
but his young adult experience at 20 years old was like a lifetime of summer camp rolled into one experience (except that it was much chillier than Mishewah ever was on the coldest August morning as his service there began in November). The autograph book of dad's that the men at Montreal River Camp signed shows that some close camp connections were made through the experience there.
But if it wasn't for another connection from closer to home, with Walter Keffer of New Dundee (his first wife was the sister of Harold Hallman), the Dettweilers might just as well have stayed home summers. In 1966 and again in 1967, Dad packed the family in the car for a trip to Keffer's Muskoka River cottage, near Baysville. This might have become a yearly tradition for the Dettweilers to rent that cottage, but on the second visit, Dad went and took a look a cottage nearby Keffer's, just on a whim, says Mom. The real estate agent happened to be there and though this larger ($12,000) cottage on the river didn't suit, he convinced dad to come and look at some other cottages on nearby Dickie Lake.
Mom says that the property line between our future cottage and Williamson's next door had to be established by a surveyor and so, while she wasn't sure at all about this venture of Harold's – we didn't know anyone from back home that had a cottage – she felt that if it was of God, the complications would be worked out. Her sympathies might have been more towards it not being God's will, she realizes now. I'm sure I can hear Dad's rationale borne of Dad's own personal hankerings for the north. It did make sense for a family that now boasted 6 children to be able to vacation economical-like.
Whenever I pick up a copy of the Muskoka Sun or alternatively, similar publications put out vaunting the real estate of the Laurentians, near Montreal, I start dreaming, having dad's same thirst to own a piece of the rock known as Canadian Shield. I have Thoreau drilled into me, however, informing my spirit that I don't need to own it to enjoy it and that the danger of real estate is that it might own me, but I still like to entertain for brief periods the notion that there is a cottage built on a rock next to a lake that was meant for me.
I'm so glad that Dad hadn't read Thoreau. That cottage on Dickie Lake has shaped our lives and will continue to do so. We just can't help it – we have Dad's genes.