Recently I was thinking about how I felt somewhat fearful, intimidated by the otherwise friendly and warm sea surrounding me the first time I headed out on my own in a Hobie catamaran onto the Atlantic ocean. Granted I was fully intending to stay in the narrow band of water between the marked out swimming area and the reefs indicated by crashing waves, but I felt fear, notwithstanding more than 40 years sailing experience on similar small craft. For this was the proverbial bigger pond, the Atlantic. Was I up to it?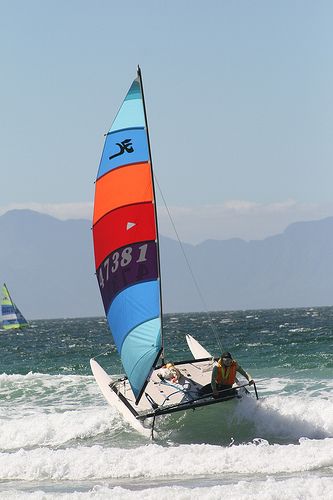 My brother Mark is enjoying sailing today also on a similar craft in the same Atlantic ocean but off the coast of Jamaica. So I wonder if he feels the same thing I did when I ventured out for the first time. I think of the bigger pond he is taking on in his career which, when I think of the scope of this job, is like an Atlantic ocean to me. I can't think but he feels a similar-to-sailing-in-the-ocean fear as he soon will assume supervising a larger staff and larger responsibilities than he previously had in a similar position in a smaller pond.
But just as I was confident, in spite of the feeling of fear, that I would come back to the beach safely and live to taste another buffet supper on that first Atlantic sail, we all fully expect that Mark will be fully capable of the challenge he will begin facing in the next month and will soon be going to his Toronto job with the same expectation that he will not be overcome but will return to eat another meal at the close of the day at home in Kitchener. Because we all feel that Mark is competent in this big task, and we are so very proud of him that he hasn't buried his biblical "talent" but has improved upon it and is now worthy of the trust of others that he can take on more.
When I think of the experiences that I have ventured into in my adult years, not without fear, but with an excitement and sense that I had enough background to succeed, or failing that, the sense of when I needed to signal a rescue and bail out, I feel accomplished.  Marriage is one of those ventures that you can never be sure of when you embark, but now after more than 20 years I have developed some competency in living with another person who is not the same as me.  And since my wife, Carol, reaches high, I've developed some competency in music performance that no one could have dreamed of, let alone me.  And we can increase our abilities this way and succeed and develop competency.  And then… come home to supper!  What a wonderful world!