There I went today after my sausage mission to St. Catharines, arriving at the market at the height of noontime traffic.  One 0f the possibilities was to find a table at one of the market restaurants and to pull out my old-fashioned phone list of my Saint Catharines market customers that do not use email and to contact this extremely loyal group of 77 and take their market orders for the March 17 Saint Catharines market.  Entering, past the jam-packed Fish and Chips restaurant | realized that happily this would not be a work environment but that I was free to pursue my own market purchases ignoring those soon in need of sausage.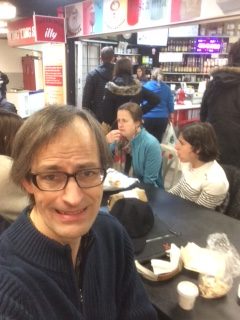 I have made regular pilgrimages over the years to the Saint Lawrence market (downtown Toronto).
1977 on a visit to my oldest brother, Steve, at his Purple Sageway residence I finched a ride down to the subway at Finch and did quite the extensive walking tour of downtown Toronto using an architectural guidebook I had acquired somewhere along the way
1985, for part of a week at Riverside Community Church which is nearby I actually stayed with a family at a Regent Park apartment.  I remember eating wieners and spaghetti (yes, that latter day Sheldon  Cooper favourite). and on the same day hearing the family's young teenage daughter remarking on the blueness of my eyes.  I don't know where she might be now but my prayer for her is that there are a pair of blue eyes so true looking after her..
early 1990ish I did some shopping for a Thanksgiving dinner at the same market, considering but not, in fact, buying the fresh gooses that were proferred by the foul vendors there
2014? Denis Bell and I shop at the market as he is a both a fellow foodie and lives only a dozen or so blocks away
jump to 2015, days before Christmas and I am with my brown-eyed-girl-who-loves-my-eyes-too at One King West for a few days and I'm shopping to supply the kitchen in our suite apartment there
Today, I have  until 3:15 when my train leaves from Union Station, so why not shop the Saint Lawrence market?